TUEV DIN EN ISO 13485:2016 – Quality management system
The quality of a medical device has a direct impact on the efficacy of the device and the safety of patients, users and others. This applies for medical products probably more than for any other kind of device. Therefore, manufacturers and suppliers of medical devices need to prove that they have implemented a quality management system that has been tested and certified by an independent body.
MedTec Medizintechnik GmbH is of course certified according to TUEV DIN EN ISO 13485:2016.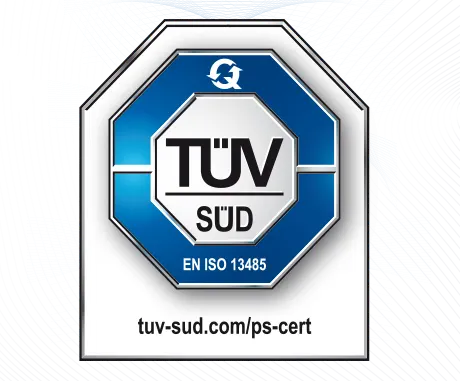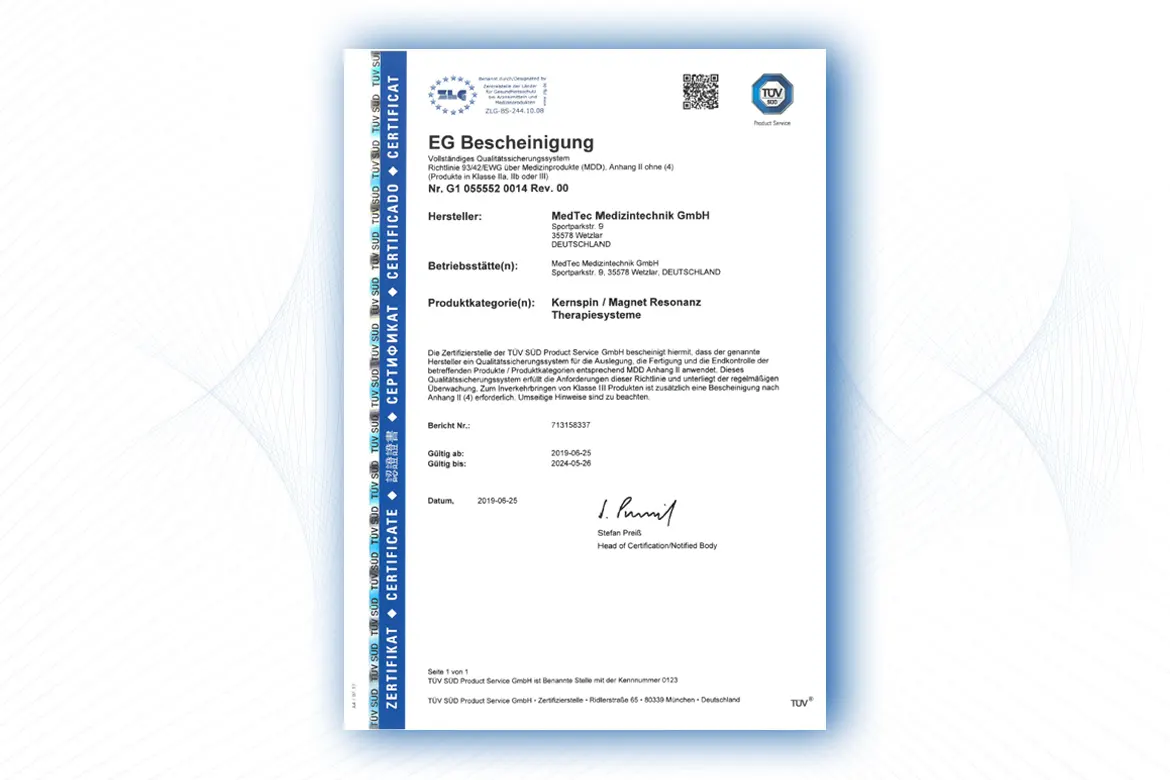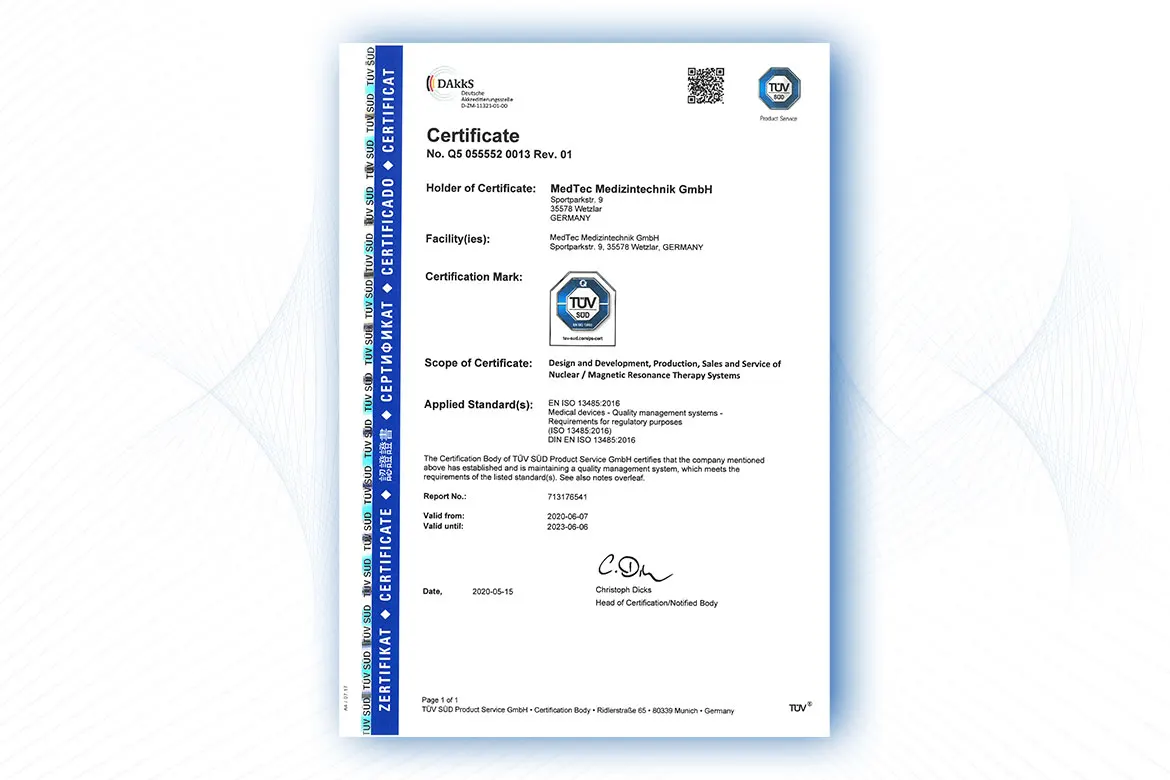 DIN EN ISO 13485:2016
The standard DIN EN ISO 13485:2016 "Medical devices: Quality Management Systems – Requirements for Regulatory Purposes" deals with the requirements that manufacturers and suppliers of medical devices have to meet when developing, implementing and maintaining management systems in the medical device industry. Originally developed in the 1990s, the standard contains regulations for quality management systems that fulfill the demands of customers as well as the European Union (EU), Canada and other important markets worldwide. DIN EN ISO 13485:2016 is similar to DIN EN ISO 9001 in scope and purpose, but contains additional specific requirements for medical devices and reformulates some of the standards of DIN EN ISO 9001. In most markets, a certification with DIN EN ISO 9001 is not considered an adequate substitute for a certification according to the requirements of DIN EN ISO 13485:2016.
MedTec Medizintechnik GmbH presents TUEV-certified quality with MBST
The certification body of TUEV SUED Product Service GmbH attests that the developer and manufacturer of the MBST magnetic resonance therapy systems MedTec Medizintechnik GmbH uses a quality assurance system for design, manufacturing and final inspection of the products concerned. This quality assurance system is subject to regular audits by TUEV.
All companies that develop, manufacture, service, distribute or use medical devices must meet high national and international standards, particularly with regard to the safety and reliability as well as the minimization of risks of their products and services. DIN EN ISO 13485:2016 is a special standard for the medical technology industry and defines the requirements for a quality management system (QMS). The standard focuses on product safety and compliance with legal requirements. Efficacy of the implemented processes shall guarantee that the product meets all demands.
TUEV SUED certified quality
Auditors from TUEV SUED, the leading testing and certification body for medical products, regularly visit MedTec Medizintechnik GmbH for audits. So far, all certifications have been completed successfully. TUEV SUED's expertise in the regulatory, technical and clinical fields is highly regarded worldwide. A strong certification partner generates trust among patients, users and medical personnel: MedTec shows that quality is important to us and that we want to ensure that our products meet the highest standards possible.
CER · Clinical Evaluation Reports
Within the scope of TUEV certification, manufacturers of medical devices must submit clinical evidence completely and free of mistakes. The report on the scientific evaluation of the MBST magnetic resonance technology regarding its therapeutic potential and proof of clinical efficacy was lastly submitted in 2019 by the Ludwig Boltzmann Cluster Arthritis and Rehabilitation and the Ludwig Boltzmann Department of Rehabilitation of Internal Diseases headed by Univ. Dr. W. Kullich as well as by Prof. Dr. C. Melzer, who is a member of the quality committee for orthopaedics and trauma surgery at the Saxon State Medical Association.
MedTec ensures that all new information on the safety and/or performance of medical technological MBST products (e. g. from studies, literature, customer surveys, congresses, etc.) is recorded promptly and that the clinical evaluation and its documentation are kept up to date.
MDR: EU Medical Devices Directive · Far-reaching changes for manufacturers of medical devices
The new EU Medical Device Directive (MDR) replaces the current Medical Device Directive (93/42/EEC) and the Directive on Active Implantable Medical Devices (90/385/EEC). The Medical Device Regulation (MDR) was published on May 5, 2017 and entered into force on May 25. A transitional period of three years, i.e. until May 26, 2020 for meeting the requirements of the MDR is applicable for manufacturers of already approved medical devices.
The new Medical Devices Ordinance expands the power of Notified Bodies with regard to clinical supervision after market placement. Unnounced audits, random samples and product tests support the EU procedure and shall help to reduce the risks that unsafe medical devices pose. For some defined product groups, the manufacturers must submit annual reports regarding the safety and performance of their products. Manufacturers lacking sufficient clinical evidence to prove the fulfillment of demands on safety and performance of a particular product or device need to conduct clinical tests. In addition, manufacturers have to collect and store clinical data for the continuous assessment of potential safety risks. The MDR states, that all currently approved medical devices must be re-certified according to the new requirements.
MedTec · MDR
MedTec with its internal quality management has been working on the implementation of the MDR since it came into force. We are certain that we will meet all requirements. Comprehensive preparation and quick measures are the key to a smooth transition to the new requirements.