TOP 100 · the award for the most innovative SMEs
Together with mentor Ranga Yogeshwar, TOP 100 selects the most innovative medium-sized German companies. Independent, credible and well known: For more than 25 years, the TOP 100 seal has stood like no other award for the innovative strength of medium-sized companies. The scientific analysis confirms the future viability of MedTec Medizintechnik GmbH.
MedTec has been awarded with this highly prestigious prize for the fourth time.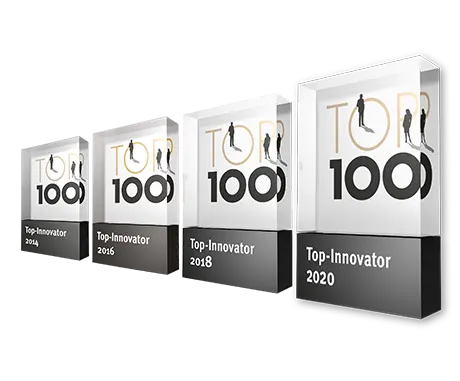 TOP 100 mentor · TV presentor Ranga Yogeshwar
Ranga Yogeshwar, mentor of the TOP 100 project: "As a scientist, I am very interested in what new ideas German companies have, what creative concepts they are working on. I also want to give something back to the award-winning companies that are expediting the German economy as an innovative elite: recognition. The way in which the TOP 100 generate new ideas and develop groundbreaking products and services out of these is remarkable in the truest sense of the word. I am therefore pleased that the award makes these qualities visible. Hopefully, their success will encourage other companies to do the same. Because this culture of innovation will become increasingly important for all companies in the future."
TOP 100 · Top-Innovator · 2020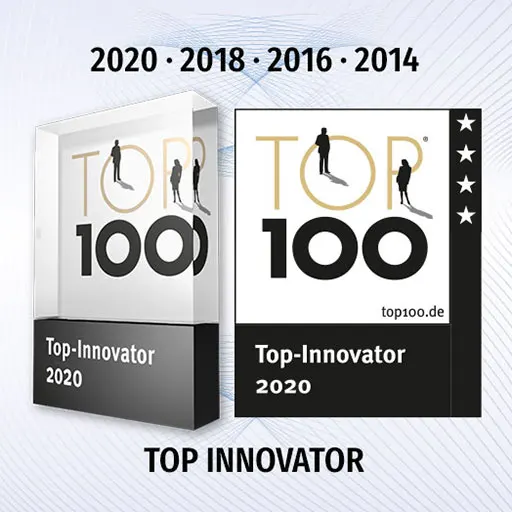 MedTec Medizintechnik GmbH is title holder and is awarded in 2020 with the TOP 100 quality seal for the fourth time in the course of the last 10 years. It is especially noteworthy that the global leader in MBST magnetic resonance therapy ranks 2nd in its category.
MedTec Medizintechnik GmbH ·
Rank 2 in size class A
Ranga Yogeshwar · Mentor TOP 100
TOP 100 and mentor Ranga Yogeshwar honour the most innovative of German SMEs.
TOP 100 has been active for more than 25 years and is the most important award for innovative enterprises in Germany. "TOP 100 is about innovators, about showing that these companies have the courage to change, to develop something new and by this become a shining example for others. As mentor of TOP 100, it is very important for me that these innovative companies are put into the spotlight. MedTec Medizintechnik GmbH has been awarded several times already, this year they achieved rank 2 in the size group A – my congratulations! The scientific basis is a decisive factor for such an award, such a competition. Germany needs much more of this spirit of innovation, needs many more companies that boldly shape our future."
Prof. Dr. Nikolaus Franke · Vienna University of Economics
"MedTec Medizintechnik GmbH is a perfect example of innovation. This shows in the topmanagement, the processes, the climate and lastly in the innovation success."
TOP 100 · Top-Innovator seal
Once a year, the TOP-Innovator seal is given to company which show an especially good performance in the market. They convince with their unique ideas, successful product developements and exceptional quality.
TOP 100 · Top-Innovator · A unique award
Since 1993, compamedia has been awarding the TOP 100 seal for special innovative strength and above-average innovation success to medium-sized companies. Mentor of TOP 100 is the science journalist Ranga Yogeshwar. Project partners are the Fraunhofer-Gesellschaft zur Förderung der angewandten Forschung and the BVMW. Manager magazin, impulse and W&V are media partners for the comparison of companies.
Unabhängig, glaubwürdig und mit hohem Bekanntheitsgrad
The TOP 100 innovation competition is based on an independent, scientifically founded procedure and is not financed by companies with third-party interests or sponsors. Any company applying to become a TOP 100 innovator has to undergo a thorough selection process which examines the state of development of its innovation management in a differentiated manner. The analysis focuses on both present and future viability of a company. TOP 100 is the only existing independent award for innovation management in Germany. To ensure that all enterprises have equal chances, the seal is awarded in 3 size groups: up to 50 employees, 51 to 200 employees and more than 20 employees.
The TOP 100 companies are among the most innovative of German medium-sized businesses. They set standards and outperform the competition. The path to become one of the TOP 100 is simple and yet methodically grounded. It is solely Prof. Dr. Nikolaus Franke of the Institute for Entrepreneurship and Innovation at Vienna University of Economics and Business and his team who decide which companies will receive the award. The evaluation does not consider individual innovations, but the innovation management as a whole.
TOP 100 · Top-Innovator · 2018 · Excerpt from the innovation report by TOP 100
MedTec Medizintechnik GmbH received the TOP 100 quality seal at its last participation in 2018. The company was able to increase its already more than average level in the different parts of the innovation analysis compared to 2014 and 2016.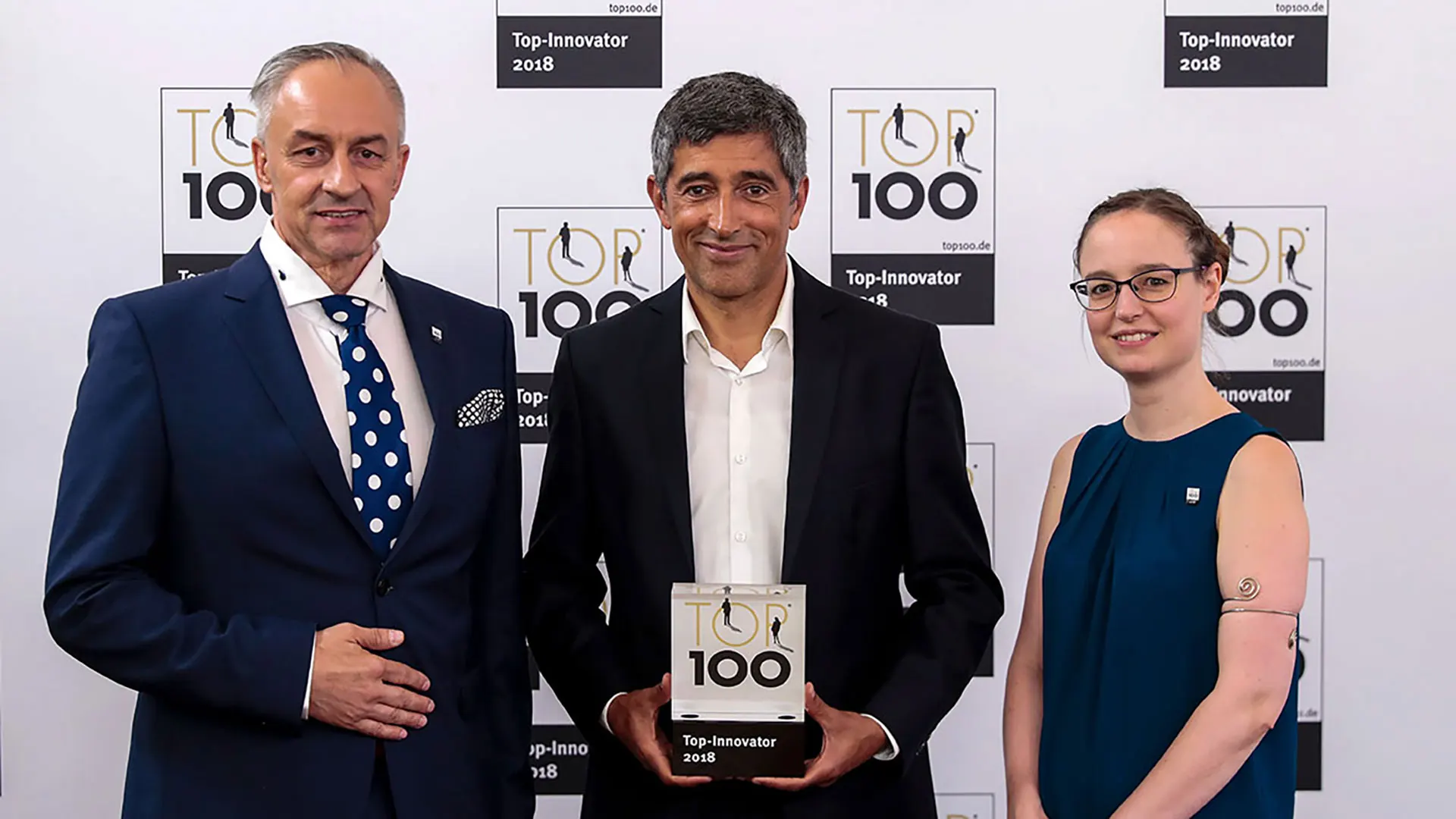 F.l.t.r CMO Guido Finkes, Ragna Yogeshwar, PR & Marketing Consultant C. Ebinger
MedTec belongs to the innovative elite of German SMEs
MedTec's erformance and innovation success absolutely convinced the jury once more after the awards in 2014 and 2016. Due to its impressive performance, MedTec Medizintechnik GmbH was confirmed as a part of the performance elite of German SMEs.
Results 2018 for MedTec Medizintechnik GmbH
MedTec Medizintechnik GmbH is among the top 10 in total score and the individual categories of the innovation competition. The rating "A" is given to companies which show an unusually professional innovation management even on an international scale. The addition "+" or "-" are used to show a company's relative position within the main rating categories. The innovation management of MedTec Medizintechnik GmbH was rated "A+".
Compared to the previous participation at TOP 100 in 2014 and 2016, MedTec Medizintechnik GmbH was able to raise its TOP 100 innovation quotient. The exceptionally high score could be increased even further – a remarkable performance. Since the first assessment of the innovation quotient in 2014, the score could be increased from 224 to 260 points. It is impressive how consequent MedTec has developed.
The current innovation quotient (IQ) of MedTec Medizintechnik GmbH is 260. This score is exceptionally high. MedTec's structures are much more oriented on innovation than can be expected by a normal company of the same size and industry. The innovation evaluation records the advances in innovation of MedTec Medizintechnik GmbH over time.
TOP 100 · Top-Innovator · 2016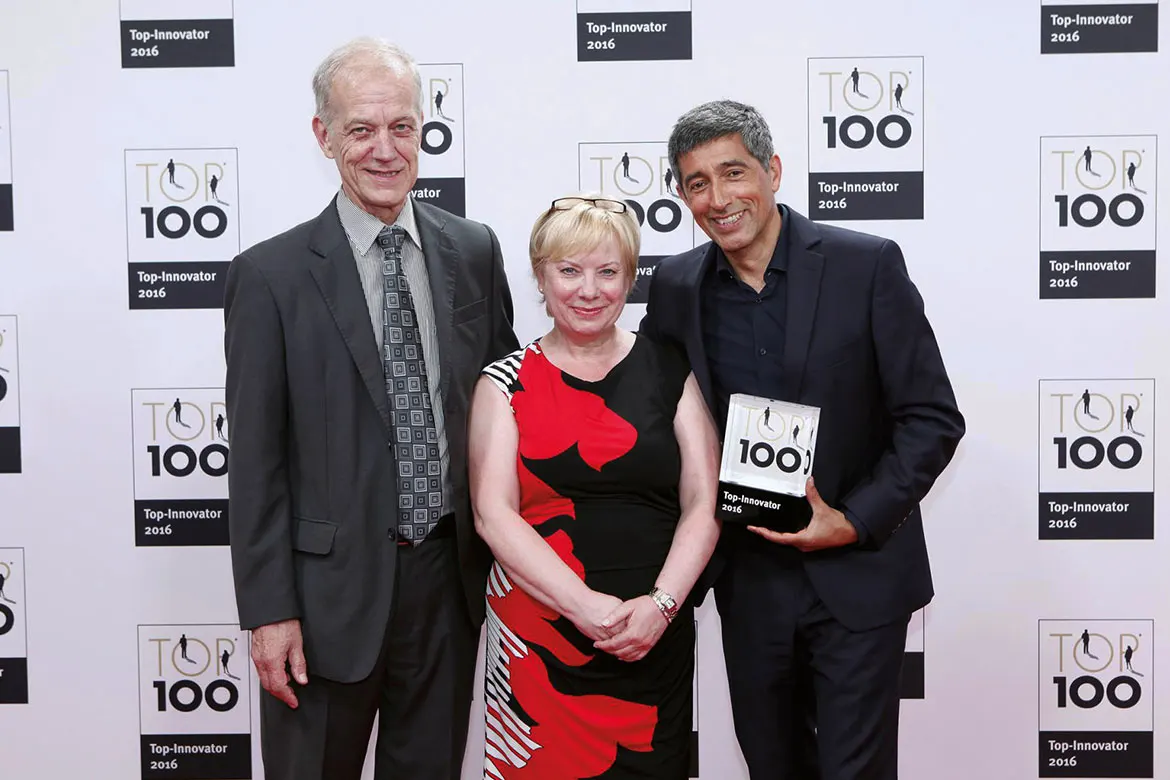 F.l.t.r Managing Director Axel Muntermann, Beate Muntermann, Ragna Yogeshwar
After the first success in 2014, MedTec Medizintechnik GmbH is again among the most innovative SMEs. The assessment's result are excellent once more. The company can be counted amont the TOP innovators of SMEs for the second time. Creative mind of the company is Managing Director Axel Muntermann. His strategy for innovations sounds easy: "We develop a premium product that has no competitors and have it patented. This way, we have no pricing pressure and can fully concentrate on its further developement.
MedTec is in a class of its own – not only as a repeatedly awarded company among Germany's SMEs.Intuitively usable, value-stable therapy systems have the best therapy results and a constantly growing volume of sales in the last centuries. We are proud to do our share for Health Made in Germany", says Axel Muntermann, Managing Director of MedTec Medizintechnik GmbH.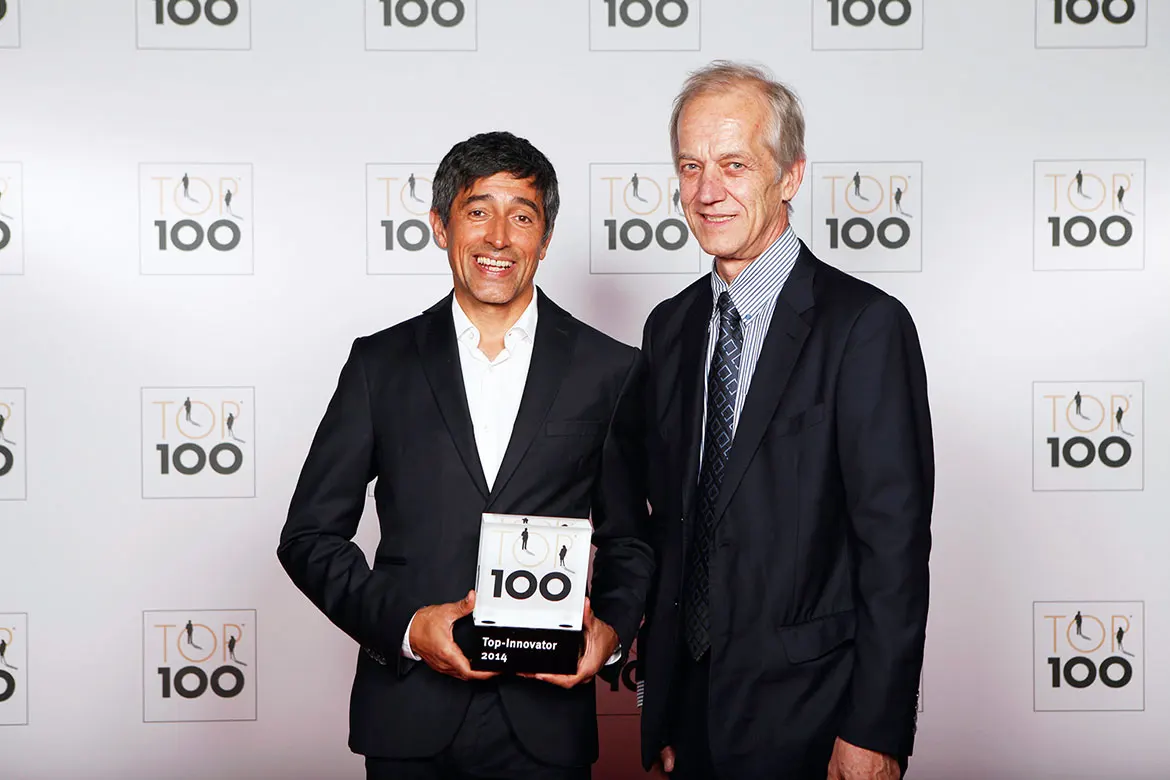 F.l.t.r Ragna Yogeshwar, Managing Director Axel Muntermann
TOP 100 · Top-Innovator 2014
In 2014, the producer of MBST magnetic resonance therapy devices was awarded by Ranga Yogeshwar as Top innovator among 3 million German SMEs. Since this first time, MedTec was able to repeat this success every time it participated in the competition.
Innovative therapy method
Since its first participation at the competition, MedTec Medizintechnik GmbH has continuously shown its innovative strength. As developer, producer and distributor of the MBST magnetic resonance therapy system, the company from Wetzlar has become world market leader in therapeutically used MBST magnetic resonance technology. The unique product portfolio has no competitotrs on the medical technologcial market and is actively marketed in 40 countries.